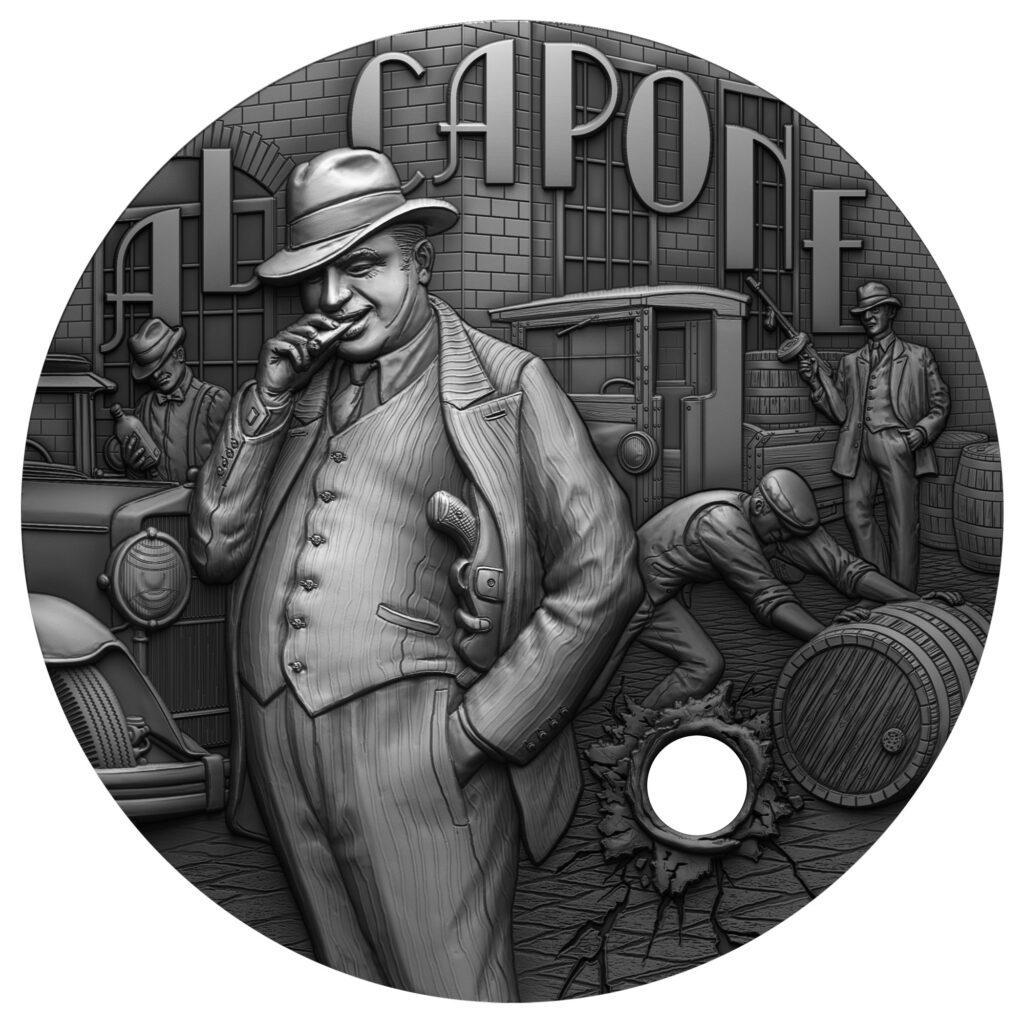 The Al Capone coin is the first coin in "The Gangsters" series, which features the greatest gangsters of all the times. The series will consist of 4 coins.
The coin commemorates the figure of Alphonse Gabriel Capone (1899-1947), one of the most famous American gangsters with the Italian origin, who is more widely known as "Al Capone" or "The Scarface".
On the coin's obverse, in its central part, we can see an elegant Al Capone itself, dressed in a tasteful suit, smoking a cigar and supervising the loading of whiskey into his trucks. These trucks will go to many of the secret clubs, brothels and casinos he ran in the Chicago area.
The loading takes place at docks in the suburbs of the city.
On the coin, in addition to Capone, we see his employees. One of them is inspecting the loading while holding a machine gun characteristic for the era, another one is rolling a barrel, and the last one is looking at a bottle of whisky.
In the background we can also see some industrial building and a car the gangster used on a daily basis.
In the bottom right corner of the coin we can see a hole with jagged edges – a hole after a bullet hit. This is a characteristic element of "The Gangsters" series, which will be present on each of the 4 coins.
The reverse of the coin shows an eight chambered revolver barrel with four 9mm caliber bullets. Each of the bullets has been gilded with 24 karat gold.
The coin was issued by Niue Island and its specification is as follows:
COUNTRY: NIUE ISLAND
FACE VALUE: 5 DOLLARS
YEAR: 2021
METAL: ,999 SILVER
WEIGHT: 2 OZ
DIAMETER: 45 MM
QUALITY: ANTIQUE FINISH
FEATURES: ULTRA HIGH RELIEF, GOLD PLATED
The coin was produced in a limited edition of 500 pieces.
The packaging of the coin was modeled as the boxes used for smuggling alcohol and weapons during Prohibition period and contains 4 slots for the whole amazing series.
The certificates, on the other hand, have been designed in the form of an appointment letter.